SSL/TLS Certificates for the Cloud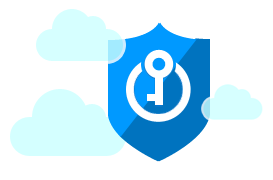 DigiCert and Microsoft are working together to improve how enterprises can seamlessly obtain high assurance certificates and keep those certificates renewed by providing convenient access to SSL/TLS Certificates and private key storage. Azure Key Vault customers can order DigiCert SSL Certificates directly from their Key Vault account through the CertCentral® REST API. Certificates are automatically renewed, making sure that lapses in SSL/TLS security do not happen.
Microsoft knows that secure key management is vital to keeping your data safe in the cloud. With Azure Key Vault, you can store and encrypt your keys and passwords at rest on virtual HSMs (hardware security modules). The DigiCert integration with Key Vault allows you to order SSL/TLS Certificates and store your certificates and their private keys there as well.
Linking Your Microsoft Azure Key Vault and DigiCert CertCentral® Accounts
Microsoft Azure Key Vault Account
Before getting started, you must first obtain an Azure account. Your Azure account includes the Key Vault for storing keys, passwords, etc.
DigiCert CertCentral® Account
Next, you need to activate your CertCentral account. This account is specifically set up for linking with your Azure Key Vault account. To obtain your DigiCert CertCentral account so that you can link it to your Key Vault account, please fill out the form below.
Note: If you already have DigiCert account (retail, MPKI, or CertCentral), do not worry. Our experts can help you manage your accounts.
Instructions for Getting Started
For instructions on how to link your Azure Key Vault to your DigiCert CertCentral account so that you can begin ordering your SSL/TLS Certificates directly from Key Vault, visit Get Started: Link Your Azure Key Vault Account to Your CertCentral Account.
Create Your DigiCert CertCentral® Account
If you are ready to begin ordering certificates directly from your Microsoft Azure Key Vault account, please fill out the form below to create your CertCentral account.
Create a CertCentral Account