If you are looking for a Certificate Authority (CA) partner for SSL/TLS certificates, there are many things you'll want to think about before you make a final decision. Rather than picking the least expensive option or most popular brand right off the bat, consider the CA's thought leadership, customer service, and available tools.
A great CA will help you accelerate growth by offering more than certificates—it will be your partner in security.
Pick a Thought Leader
Ideally you should look for an experienced CA that follows best practices and encourages partners to do the same. Thought leaders not only "talk the talk" but also "walk the walk" when it comes to certificate management and pushing the security industry forward. The best CA partners are experts in their field and offer support to their partners. Choose a company that demonstrates expertise in PKI for your CA partner.
A great CA should:
Be at the forefront of developing baseline standards
Be actively involvement with industry groups
Offer resources regarding best practices, certificate management, and compliance
Lean on Customer Service
A true partner is there whenever you need them, and is focused on helping you. You may have questions pop up during any point in the deployment process or management lifecycle, which is why it's essential your CA be accessible and ready to help. Look for a CA that has shorter-than-average validation times and 24/7 support hours to ensure you're getting the most value for your money and time.
Optimize Your Efficiency with Tools
Managing digital certificates can get stressful, and there's a lot on the line—certificates alone don't promise security; they must be installed correctly, use the right endpoint configurations, and follow best practices to avoid vulnerabilities.
A respectable digital security partner will not only provide certificates, but also tools to track and manage certificates, automate processes, and comply with policies. Look for an MPKI certificate management platform that helps every admin visualize, analyze, and manage their certificates faster and with a more organized approach. APIs are also extremely valuable because they allow you to automate and customize workflows to maximize efficiency.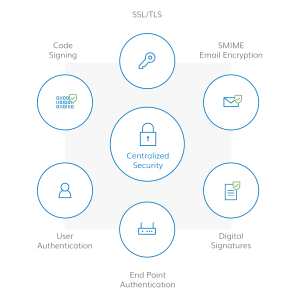 Select a CA Partner that Does It All
In addition to SSL certificates, thought leadership, dependable customer service, tools, and APIs are all important considerations to make when choosing a CA partner. You can make it easier for yourself in the long run  by choosing a CA that does it all.
Our Offering
DigiCert is a security thought leader with an award-winning certificate management platform as well as management tools and APIs. We offer a range of security solutions to ensure end-to-end encryption:
High-volume issuance for IoT devices
Managed PKI
Activity Directory integrations
SSL, Code Signing, Client, and Device certs
Our solutions can be customized to fit your customers' needs and your market.
Contact us for more information or if you have questions about the DigiCert Partner Program.