DigiCert Dedicated Intermediate
Customizable root profiles that comply to industry standards and provide enhanced authentication security for enterprises who need
an in-house PKI infrastructure.
Request Pricing
What is a Dedicated Intermediate?
A dedicated intermediate is an issuing CA that allows enterprises to deploy digital certificates that are trusted by all major browsers and servers. DigiCert dedicated intermediates give you the power to customize the use and type of your certificates, and offer flexibility when implementing your organization's chain of trust.
Maintain the Chain of Trust
Dedicated intermediates enhance security by offering more control over the trust chain. Here's a simple example of the many possible options for issuing certificates when using a dedicated intermediate.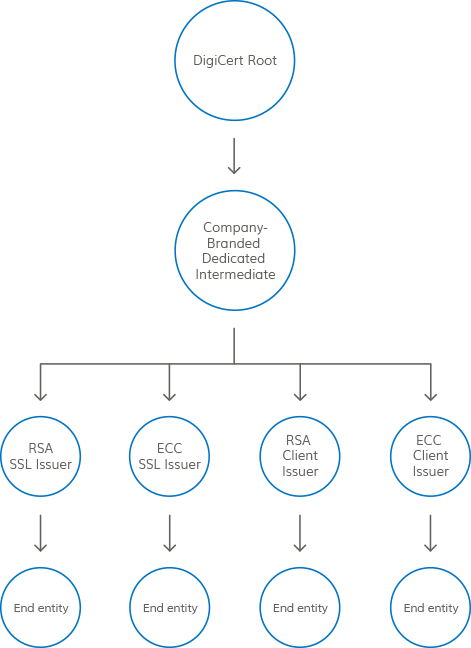 All of the Control, None of the Frustration
For dedicated intermediates housed within the DigiCert Cloud PKI service, we manage the root certificate, secure the infrastructure, and keep up with the rapidly progressing industry standards, so you don't have to worry about costly support services.
Dedicated Intermediate Features
Trust Constraint
Limit trust to intermediates issued only for your use, and gain complete control over issuance and revocation of end-entity certificates.
Personalized Branding
Brand your intermediate so your customers can see who issued the certificate, ensuring your site and systems are secure and increasing overall trust.
Custom Profiles
Work with DigiCert experts to create customized certificate profiles or templates for your expected use and anticipated security concerns.
Talk to One of Our PKI Experts
Want to get a quote or learn more about dedicated intermediates?
Fill out the form or call 1.801.701.9690.