EV SSL Certs for Ultimate Protection & Value in SSL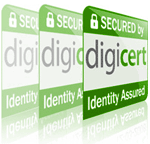 EV SSL Certificates from DigiCert provide the ultimate in fraud protection, SSL authentication, and cert value. Extended Validation SSL certification is designed for organizations with a compelling need to protect their clients from a wide variety of security threats. Many or our clients save thousands of dollars each year using DigiCert as their EV certificate provider.
Compare Certificates & Pricing
Common Questions About Extended Validation EV SSL:
What is EV SSL? EV stands for extended validation SSL, a new kind of certificate that enables special features in client browsers to demonstrate increased trust in the site they are accessing.
For most users accessing an EV SSL secured site, the URL bar will turn green. All major browsers have slightly different methods of displaying an EV enabled website.
Similar to Wildcard certificates, these certificates must be issued to the same base domain (e.g., example.com), and will all expire at the end of the chosen term limit.
EV Certificates
Pricing
2 Years
$469
Additional certificates $155 each*
(You Save 20%)
Buy Now
1 Year
$295
Additional certificates $95 each*
Buy Now
Save Time and Money by choosing the 2-Year Option during Checkout:
Save 20% with 2 year certificates!
Save on the time and cost expenses of installing another certificate each year.
Who Needs Extended Validation? For organizations that are likely to be targed by a large number of phishing scam attempts, EV is virtually a must.
We also recommend that sites which would benefit from improved conversion rates, or additional means of building trust with their clients, consider EV SSL certification as a means of improving their e-commerce websites.
Otherwise, EV SSL certification helps protect all kinds of organizations against recently unveiled hacks such as the SSL man in the middle attack.
Can I Get an EV Wildcard? This is about the most common question that we get about EV certificates. Many customers want to know if they can get an EV wildcard SSL certificate. Fortunately, while EV wildcards are not permissible (due to the requirements put forth for the issuance of EV certificates by the CAB forum, which regulates the use and issuance of EV certificates), many similar functions can be attained with the use of subject alternate names.
If you have questions about how to get multiple SAN names included on one EV SSL certificate, please contact us for help.
Can I Upgrade My Existing Certificate to an EV? We always allow customers to upgrade their existing certificate to a new cert, so upgrading in the case of EV won't be a problem. However, it should be noted that customers will have to undergo the EV validation process before their upgraded certificates will be issued. Also, as mentioned above, upgrades to EV Wildcards are not permitted.
Do EV Certificates Include the Unlimited Server License? Yes! The unlimited server license is available for any and all of our SSL certificate products. If you need help exporting your existing SSL certificate to a new server, please refer to our SSL certificate export instructions.
Related: