SSL & Code Signing Certificate Management Made Easy
With features like automatic CSR creation and SSL Certificate installation, easy code signing, and certificate troubleshooting and management you're probably thinking "how much does this tool cost?" Easy certificate management is our mission, so we make tools like this completely free.
Certificate Utility Screenshots & Overview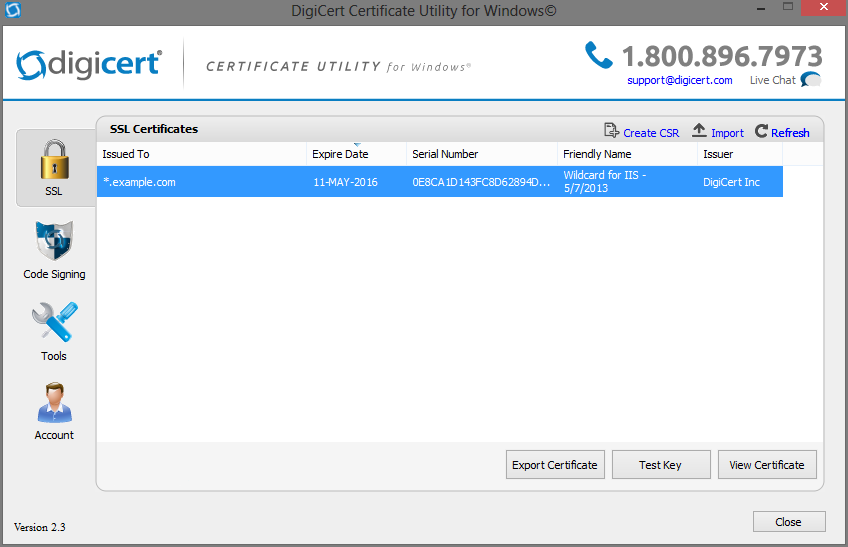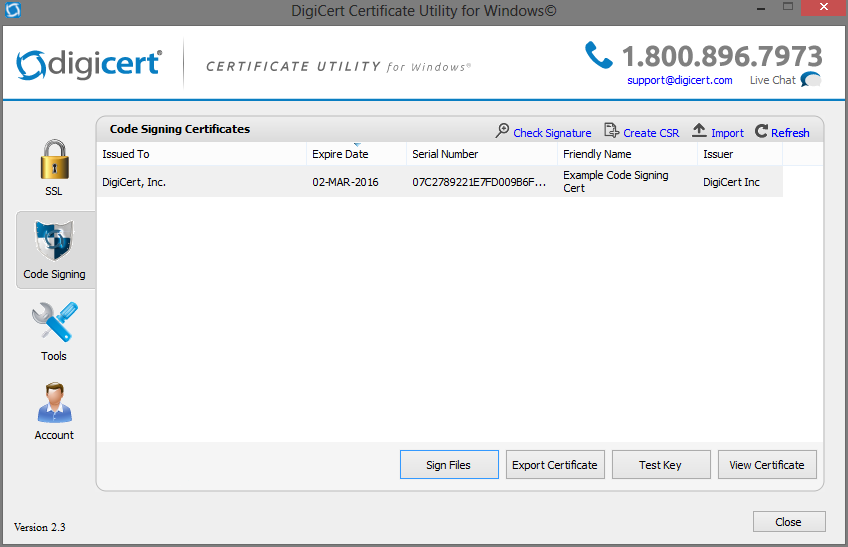 Easy One-Click CSR Creation and Certificate Installation
Like most people who deal with SSL Certificates, DigiCert knows that the CSR creation and installation process is a hassle. That's why we added automated CSR generation and certificate installation features to our utility. After you buy a certificate and it's validated, download the utility and log in using your regular account credentials. Then, use the utility to create your private key and CSR, send the CSR to DigiCert, issue the certificate, and install the issued certificate. It's that easy.
Simple Code Signing & Application Signing
Formerly, signing your software with a code signing certificate was an arcane and time-consuming process. Depending on the code you were signing, you would need to research how to sign the code, track down all the necessary assets, and labor through a clunky command line process. Fortunately, DigiCert's utility for Windows turns this process into a smooth and easy procedure. Simply open the utility, navigate to the file you want to sign, and click a button.
DigiCert Utility Features
The DigiCert Certificate Utility makes it easy for you to perform the most common certificate management tasks like:
Install certificates with a single click
Generate a CSR for your order
Re-install certificates in one click
Find SSL Certificates on your server
View certificate details
Copy certificates between servers
Renew certificates
Fix intermediate certificate chain errors
Edit certificate friendly names
Verify certificate chains
Install certificates to pending requests
Test certificates
Delete certificates
Sign or re-sign code or software
Sign applications with a single click
Sign drivers and other system files
Verify signed applications
Time stamp applications
Repair private key errors
Automate application signing
24/7 Award Winning Technical Support
Get The Support You Want, When You Need It
If you can't find what you're looking for online, we're also available by phone, email, and chat every hour of every day. Getting real customer support is one of the most crucial parts of our business, so we don't outsource or have phone queues.
The DigiCert Difference
Related Links
Certificate Types