The PKI Certificate Management Platform for Enterprise
Simplify management, customize workflows, and automate issuance
using a REST API without the stress of traditional PKI.
Try It Free
Streamline Enterprise Managed PKI Managing your certificate landscape doesn't have to be a nightmare.
Ease your administrative burden with CertCentral®—a managed PKI
platform that supports billions of certificates.
Certificate Lifecycle Management
CertCentral® facilitates better certificate lifecycle management by consolidating tasks for issuing, installing, inspecting, remediating, and renewing certificates into one scalable software suite.
Issuance
Managing high-volume certificate issuance for multiple individuals and teams is faster using role-based user access and domain pre-validation, giving you time to put toward more important parts of the lifecycle, such as inspection
and remediation.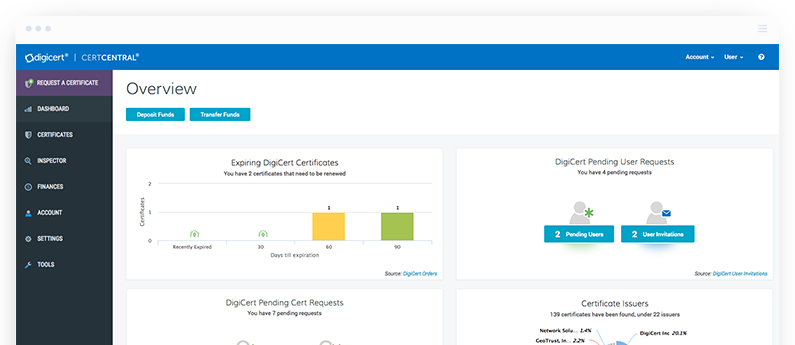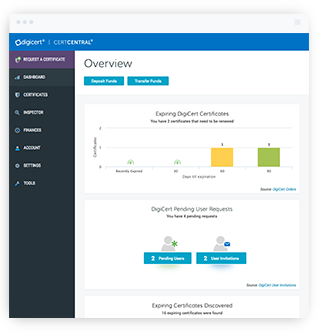 Installation
Enjoy hands-off certificate distribution by using SCEP, REST, EST, or Autoenrollment to automate certificate deployment for devices and users across
your network.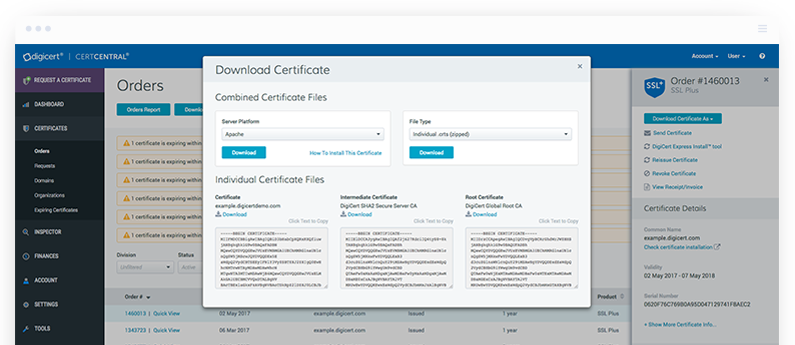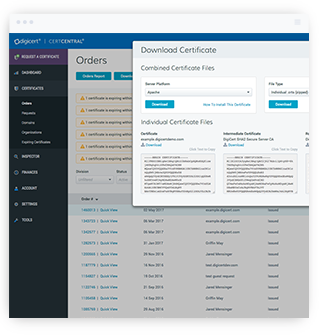 Inspection
With a single click, scan all of your certificates to check for vulnerabilities and weak configurations to avoid a lapse in security. See analytics and reports about the health of your network at any given moment.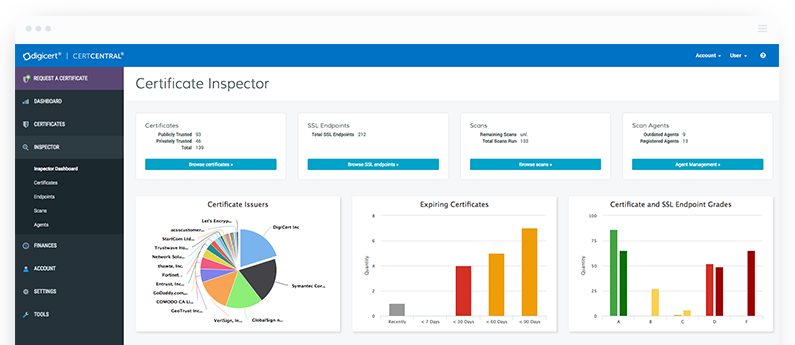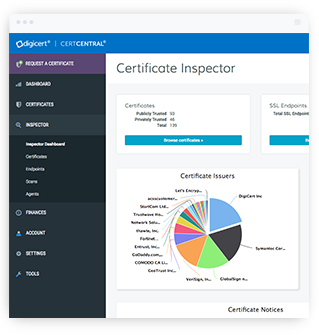 Remediation
Get immediate dashboard alerts about potential weaknesses as well as remediation suggestions with detailed answers to virtually any certificate problem. Revoke certificates with one click whenever you need to.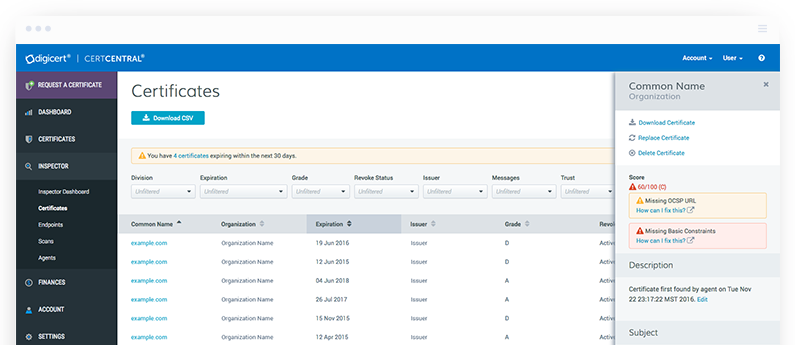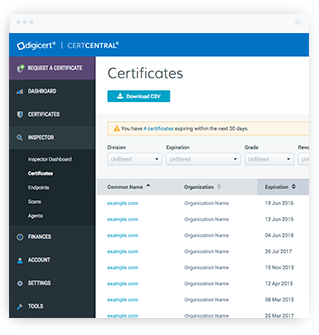 Renewal
Lapsed SSL certificates can cost a business millions of dollars. CertCentral eliminates the headache of manually tracking all your certificates with the automatic renewal option, so you can avoid unplanned outages.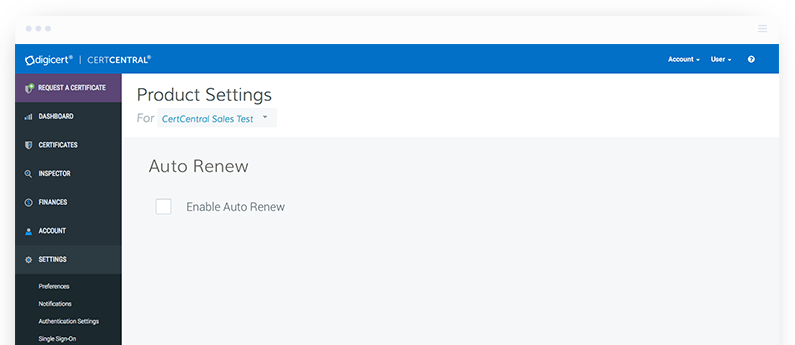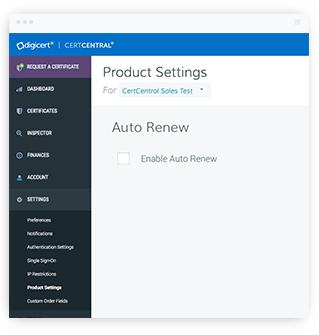 Simple, Centralized Bulk Management
for All Certificate Types
Standard SSL Certificates

Extended Validation SSL Certificates

Multi-Domain Certificates

EV Multi-Domain Certificates

Wildcard Certificates

Client Certificates

Code Signing and EV Code Signing

Document Signing

Dedicated Root

Custom Profiles
CertCentral for Automation
Simplify your work day, save time, and automate parts of the certificate lifecycle
using APIs to issue and provision certificates for any user, device, machine,
or system in your network.

CertCentral for Customization
The PKI management platform can be tailored to your specific usage patterns and can be customized to your organization's unique infrastructure.
Business division management
Custom certificate validity
Flexible financial options
Use CertCentral with Public and Private PKIs
Whether you choose a public or private PKI solution, DigiCert offers flexible options to fit the specific needs of your organization.
CertCentral allows you to manage all parts of the certificate lifecycle including ordering, issuance, remediation, revocation, and renewals for public and private SSL certificates from our cloud CA solutions as well as on-prem.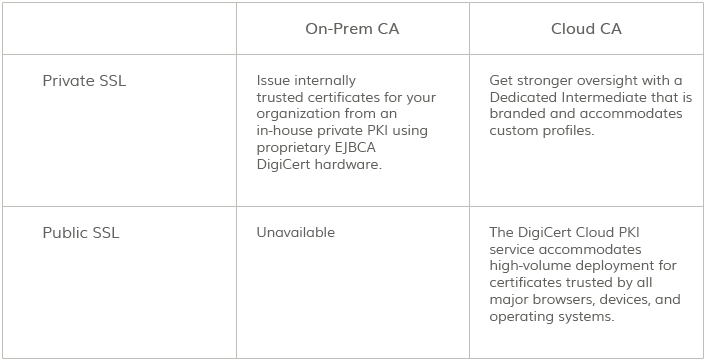 Because needs vary greatly from business to business, hybrid solutions are also available.
Customize Using REST APIs
Use our API to automate critical certificate functionsand seamlessly conform to your current processes.
All the features and processes available in your CertCentral account are accessible through the DigiCert REST API. Customize workflows and automate requests specific to your needs for any type of certificate including SSL, code signing, document signing, and client. Our REST API allows you to effectively integrate with:
Third-party tools and applications
Mobile Device Management (MDM)
Enterprise Data Management (EDM)
Security Information and Event Management (SIEM)
Other enterprise management tools
Many of the Global 2000 use the DigiCert API for better control over their certificate lifecycle management.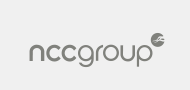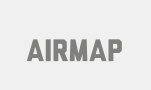 Professional Services
Get the most out of your PKI investment and talk with our professionals to custom-build a security solution for your organization.
Custom scripts

On-site trainings

Custom apps

Compliance

Planning and design

Review and verification

Implementation

Consultations
Get More Information
A full range of services are available to meet the needs of every business. If you want to learn more about MPKI, fill out the form or call 1.801.701.9690.