LEHI, UT (June 12, 2017) — Today, DigiCert was named to Computerworld's 2017 list of Best Places to Work in IT, one of 100 top organizations that challenge their IT staffs while providing great benefits and compensation.
"DigiCert is securing the future of digital connectivity for our customers, and providing an empowering work culture for our employees," says DigiCert COO Flavio Martins. "Every day, our team works closely with our customers to protect devices and data from attackers, and they know that they are part of an important global initiative that will impact the type of world in which we live. Our people drive our success and we strive to put them first in everything that we do."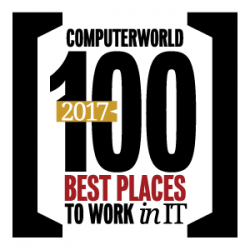 DigiCert enjoys a healthy reputation and loyalty from its customers and employees, due to a focus on putting people first. This includes providing an empowering work culture that promotes innovation and open communication across all levels of the organization. DigiCert IT staff actively design, develop, test and secure critical systems that advance industry standards and simplify the customer experience. Challenging, rewarding work leads to low turnover rates and strong employee engagement. DigiCert also offers employees a flexible, family-friendly environment to accompany competitive wages and benefits.
DigiCert secures all the things that make up daily living in the digital age from web servers to connected devices across healthcare, automotive, industrial operations, smart city and grid, and many other industries. DigiCert security solutions are used for data encryption, secure boot, secure patch management, machine-to-machine mutual authentication, user authentication, and data integrity to help prevent unauthorized intrusions and data manipulation. DigiCert's automated PKI management platform, CertCentral®, delivers unique insights into an organization's certificate landscape and simplifies enterprise certificate management.
DigiCert leads its industry with high-assurance digital certificates and intuitive management tools for organizations of all sizes. DigiCert is a trusted partner for leading companies, including the Global 2000 and the majority of the U.S. Alexa Top 10.
"As technology moves to the strategic center of every business, the ability of the enterprise to attract and retain skilled IT talent has become critically important," says Ken Mingis, executive editor of Computerworld. "The 100 organizations on our 2017 Best Places to Work in IT list keep their tech employees happy and engaged by offering generous salaries, top-notch benefits, continuous training, and access to cutting-edge technologies. In empowering their tech workforce, these firms gain competitive advantage, and we applaud them for their achievements."
About the Best Places to Work in IT List
The Best Places to Work in Information Technology (IT) list is an annual ranking of the top 100 work environments for technology professionals by IDG's Computerworld. The list is compiled based on a comprehensive questionnaire regarding company offerings in categories such as benefits, career development, training and retention. In addition, Computerworld conducts extensive surveys of IT workers, and their responses factor heavily in determining the rankings.
About DigiCert, Inc.
DigiCert is a leading provider of scalable security solutions for a connected world. The most innovative companies, including the Global 2000, choose DigiCert for its expertise in identity and encryption for web servers and Internet of Things devices. DigiCert supports SSL/TLS and other digital certificates for PKI deployments at any scale through its certificate lifecycle management platform, CertCentral®. The company has been recognized with dozens of awards for its enterprise-grade management platform, fast and knowledgeable customer support, and market-leading growth. For the latest DigiCert news and updates, visit digicert.com or follow @digicert.
Note: All product and company names are trademarks of their respective organizations.