Hosting Providers
Expand your product portfolio and incorporate securityinto your business offerings.
Learn More
Why Hosting Providers Join the
DigiCert Partner Program
Easily integrate and manage the security of your entire network. DigiCert works with hosting providers to offer customizable pricing options based on order volume, and customizable certificate renewal options.
No certificate restrictions
Unlimited certificate requests
All certificate types available
DigiCert Automated Certificate Services Save critical management time and effort when managing your network by using
our automated certificate technologies, network directories, APIs, and CertCentral
features to deploy certificates. CertCentral integrates with Active Directory, so you
can issue certificates immediately for new users and devices—no matter how big or
small your network is. You can even set up rule-based, automatic provisioning and
issuance for certificates using your preferred protocol.
REST
Simple Certificate Enrollment Protocol (SCEP)
Enrollment over Secure Transport (EST)
Windows Autoenrollment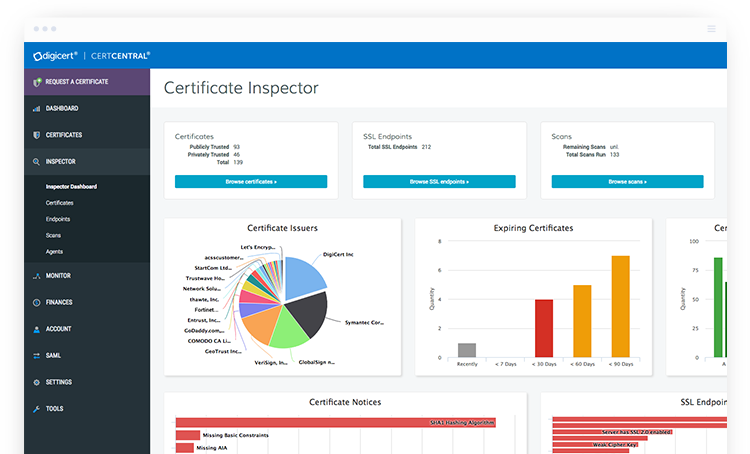 Why Join the DigiCert Partner Program?
PKI Expertise
Whether you need services for deployment, architecture, implementation, or something else, our PKI engineers can ensure you are security-focused from start to finish.
Fastest Issuance and Load Times
Our validation experts issue your certificate within a few hours, not to mention DigiCert OCSP times are up to 8x faster than competitors, making for the fastest SSL in the industry.
Access to Free Tools and Platforms
Dedicated Account Management Team
Our award-winning support team is available anytime to answer whatever questions, concerns, or issues that come up.
Certificate Automation Options
Our REST APIs allow you to automate nearly all common tasks associated with certificate management as well as customize your workflows.
Partner-Only Libraries
We offer special partner access to co-branded marketing materials and resources, so you can deliver value and a better experience to your customers.
Talk to a Partner Program Representative
Wondering how the DigiCert Partner Program can benefit you?
Fill out the form or call 1.801.701.9686.