Building Trust With Your Visitors to Increase Conversions and Boost Site Metrics
What is a Site Seal, and Why Does a Site Seal Increase Conversions?
A site seal is a small icon that you can display on your website. This icon gives your visitors a visual assurance of your site's security.
All DigiCert certificates come with a DigiCert seal. The below image shows the seal options that come with all of DigiCert's certificates. You can choose one or multiple seals to display on your website. DigiCert's site seals give you an easy way to let your customers know that your site is being secured by DigiCert and that their information is safe.
If you have an EV certificate, you have similar options for DigiCert site seals as seen below.
See this article for information on the additional benefits of EV certificates; i.e. the green address bar.
One of the most important components of online business is creating a trusted environment where potential customers feel confident in making purchases. Companies that are verified can build trust instantly with their customers through site seals.
Think of it this way; have you ever purchased something online from a site that you didn't think was secure? Without consumer confidence, potential sales will be stopped dead in their tracks.
The bottom line—your customers won't purchase products or services from your website if they don't trust you.
Why Does a Site Seal Make My Customers Trust Me?
Click the seal on the right to see what your customers will see on your website (with your information, of course). What they see is that your site and business are real and certified by a trusted third party. The seal represents end-to-end validation and verification of both your company and your website. Customers who see a website seal can be assured that they are working with a trusted site where the people behind the site really are who they claim to be.
Use Your DigiCert Site Seal to Increase Conversions
The following case study was provided to us by a customer, CPMI Professional Development, who was happy with their results after testing a DigiCert site seal and was nice enough to give us permission to share their results with you.
"Hi, I wanted to tell you that I recently added your site seal to my site and am really happy with the results.
"I own a web-based business where most of our competitors operate in a more traditional, offline setting. One of the hardest obstacles we've had to overcome has been convincing clients who are used to doing things a certain way and might not be as tech savvy that they are ok making a purchase online. Even with everything on our website, customers are actually more likely to phone in an order than they are to order online.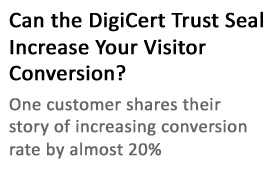 "This year when our SSL Certificate came up for renewal we noticed the site seal option inside your newly designed customer account area. We figured, 'what the heck, lets give this thing a try.'
"We installed the seal just through our store and checkout pages and tested it for 30 days, or 15,000 pageviews between 5,000 unique visitors. During that time period, we saw a 18% decrease in bounces and a 19% increase in conversions on the pages with the site seal installed."
CPMI's Testing Overview
Implementation: Store only (not included on non-product pages such as blog, etc), 30-day duration, ~15,000 pageviews, 5,000 unique visitors.

Placement: Site seal was placed on the right side of each page, below the user's shopping cart and above the area where users can login.

Results: Decrease in bounce rate from 47.61% to 38.96% (net 18% decrease) on tested pages. Increase in conversions from 3.22% to 3.84% (net 19% increase) on tested pages.
If you had a great results using our site seal, let us know! We'd love to hear about your experience.
Getting Your Site Seal
If you aren't currently a customer, you must first purchase an SSL Certificate from us to access the customer account area and generate the code for your site seal.
If you are a current customer, simply follow the installation steps on this page.
If you have any questions about seal implementation or troubleshooting your seal once it is on your website, go ahead and contact our 24 hour support for assistance.
The DigiCert Difference
SSL Certificates
Related Links