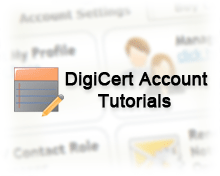 Learn to Navigate and Use Your DigiCert Account
The DigiCert Management Console (DigiCert Account) is where you can perform all of your SSL Certificate management tasks—including reissuing, renewing, adding SAN names, and more. The below sections contain information for beginners as well as advanced users.
The Basics
The basics are overviews and instructions for those who have either never logged in to their account before or are just getting started. You should have already set up your account during your certificate purchase. If you don't remember your login credentials, navigate to the account login page and click forgot your username/password.
Below are some simple account management functions:
Advanced Account Management & Special Features
DigiCert strives to provide the best value for your money—which is why we continually add features to our certificates and tools. We want to make your life easier. While some of these features are simple and happen automatically (like the inclusion of one SAN in our basic SSL Certificate), others are a bit more complicated and require tutorials.
Below are some instructions for completing advanced account management tasks as well as instructions on how to take advantage of our special features:
If you need additional management features that are not offered with our regular management console, you may want to consider a Managed PKI SSL Certificate account. Managed PKI accounts expand account administrative functionality and enable organizations with a large number of certificates to easily handle SSL Certificate management and administration.
Get The Support You Need, When You Need It
DigiCert has an award-winning in-house technical support team that is here to help you with any digital certificate issues that you have. Our dedication to unparalleled customer support is reflected in the numerous service awards we have won. Nowhere is this better demonstrated than in the hundreds of 5-star customer reviews we have on SSLShopper.com. In fact, DigiCert is the only Certificate Authority with a perfect 5-star rating!
Professional Support Available Anytime!
We try to keep our online documentation as up-to-date as possible. However, if you have a particular article or platform that you would like to see documentation for, please email us.
---
Support Toll Free: 1-800-896-7973 (US & Canada)
Support Direct: 1-801-701-9600
Fax Toll Free: 1-866-842-0223 (US & Canada)
Email: support@digicert.com