Wi-Fi Certificates
Increase trust in public hotspots, protect user data, and streamline the registration process using Wi-Fi Alliance-approved OSU certificates.
As low as $138/year
BUY NOW
What is a Wi-Fi Certificate?
A Wi-Fi Certificate protects the registration process and encrypts log-in credentials when connecting to public Wi-Fi, ultimately providing secure network access and increasing trust in public hotspots and sign-up services.
Authenticates sign-up service providers
Encrypts user data during the sign-up process and communication between a mobile device and OSU server
Ensures that a user is communicating with the intended
service provider
What is Passpoint™ certification?
This is a program governed by the Wi-Fi Alliance®. The standards were designed to streamline the process of creating new user accounts, as well as make finding and connecting to the right service provider simple and secure. DigiCert is a designated provider authorized to validate Wi-Fi service providers and provide Online Sign-Up (OSU) server certificates—also known as Wi-Fi certificates. Wi-Fi Certificate Options
Wi-Fi Server Certificate: Secures a public Wi-Fi hotspot, so users can identify that the network is yours, can be trusted, and is safe.
Wi-Fi Multi-Domain Certificate: Secures a public Wi-Fi hotspot, so users can identify that the network is yours, can be trusted, and is safe.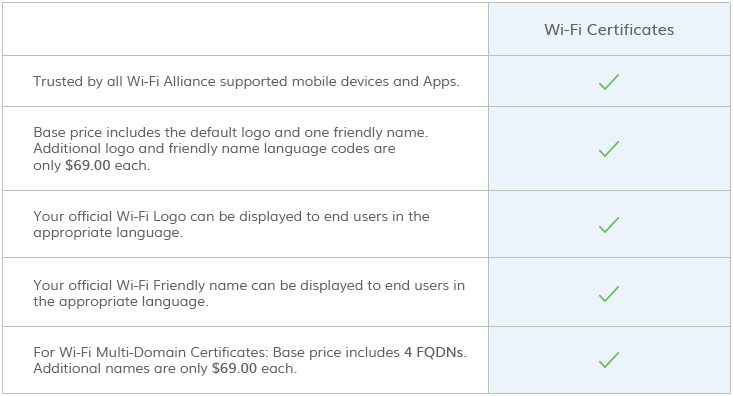 How Wi-Fi Certificates Work
To get a Wi-Fi certificate, a service provider must apply for one from a Wi-Fi Alliance-certified certificate provider, like DigiCert. The service provider must provide documentation to prove their identity and that they are a legitimate Wi-Fi provider.
Once the validation process is complete, the service provider can receive the certificate. The service provider then installs the certificate on an OSU server and it is used during the online sign-up process between the service provider and an end-user.

Why Choose DigiCert for Wi-Fi Certificates?
Wi-Fi Alliance Partner
DigiCert is an approved Wi-Fi Alliance Certificate Authority vendor authorized to sell WiFi certificates for release 2 of the Passpoint program.
Name Recognition
Wi-Fi Certificates include a logo and organization name for the service provider, communicating authenticity and a safe connection for the end user.
Increased User Trust
To receive a Wi-Fi Certificate, service providers must go through a rigorous validation process to prove they are a legitimate and trusted provider.
Secure Sign-Up Process
Once an end-user makes a connection with an OSU server, their interactions with that server are encrypted during the sign-up process—including their sensitive information.
Ubiquitous with Passpoint Devices
Our Wi-Fi Certificates work with all Passpoint devices, so you don't have worry about any additional hassle.
Full Line of SSL Certificates
As the only publicly trusted CA who offers Wi-Fi Certificates, we can also offer a complete line of authentication solutions—including SSL, device, and client certificates.
Get More Information
Want to learn more about about Wi-Fi Certificates or get a quote?
Fill out the form or call 1.801.701.9600.