Courier IMAP SSL Certificate CSR Creation
If you already have your SSL Certificate and just need to install it, see
SSL Certificate Installation :: Courier IMAP Server.
How to generate a CSR for your Courier POP/IMAP server
Recommended: Save some time by using our new OpenSSL CSR Wizard. Just fill in the details, click Generate, and paste your customized openssl command into your terminal.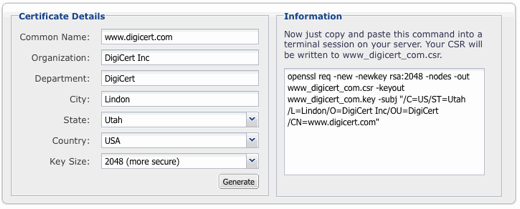 Of course if you prefer to build your own shell commands, just follow our generic instructions for OpenSSL CSR creation.
Generating a CSR for Issuance of an SSL Certificate in Courier IMAP and POP
How to generate an SSL Certificate Signing Request for your Courier IMAP server
If you are ready to purchase your next SSL Certificate, click the button below: