SSL & PKI Made Easy
Avoid the headaches. Simplify SSL with our management platform and industry-leading support.
BUY SSL CERTIFICATES
Renew
As low as $139/yr
Buy SSL Certificates
The fastest issuance and renewals in the industry. We make buying and managing SSL certificates
quick and painless.
Automated Certificate Management
Streamline bulk administrative tasks like issuance and enrollment with our enterprise-ready certificate lifecycle management platform.
Learn More

Security and DevOps Are Integrating
Incorporating security into DevOps comes with challenges. Download the new report for recommendations on increasing security agility.
Get the Report
Security Solutions for Every Business Need
DigiCert simplifies PKI-based security solutions at any scale,
so you can focus on growing your business.
High-volume, customizable security and certificate management solutions for web servers, code, and connected devices.
Right-sized identity, authentication, and encryption at prices and assurance levels that fit a broad range of needs.
Encrypt sensitive data with high-assurance digital certificates for one or many domains and servers.
Automated identity, authentication, and encryption for connected devices using PKI.
All Your Certificates. A Single Platform.
The CertCentral® Management Platform makes it easy to protect your customers and guard your brand by automating every step of the certificate lifecycle.
Issuance
Enjoy quicker certificate tracking, approval, and issuance for multiple individuals and teams thanks to role-based access and domain pre-validation.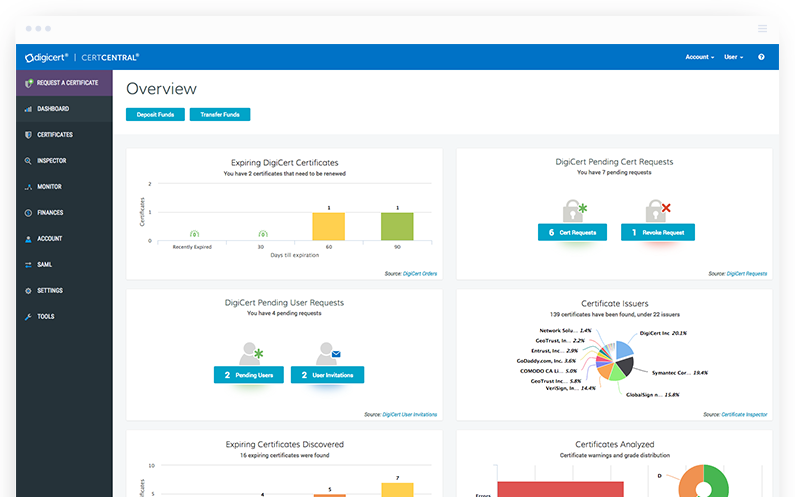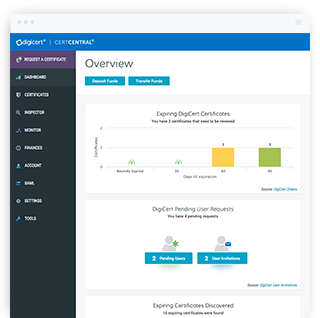 Installation
Automate certificate deployment for your entire network using your preferred secure protocol.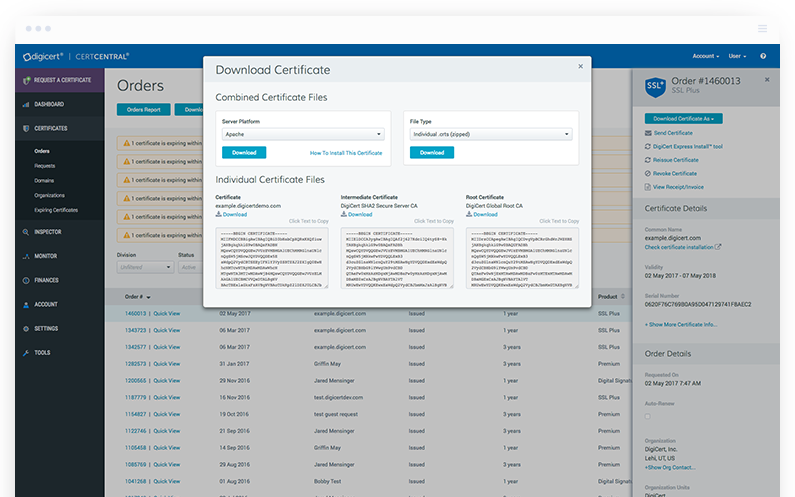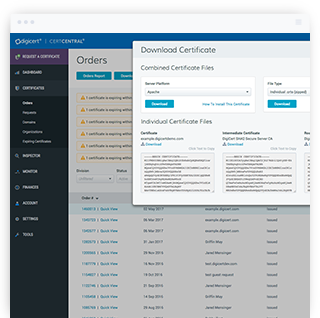 Inspection
Evaluate every certificate endpoint on your network for vulnerabilities with a single click, then get intelligent reports on what scans find.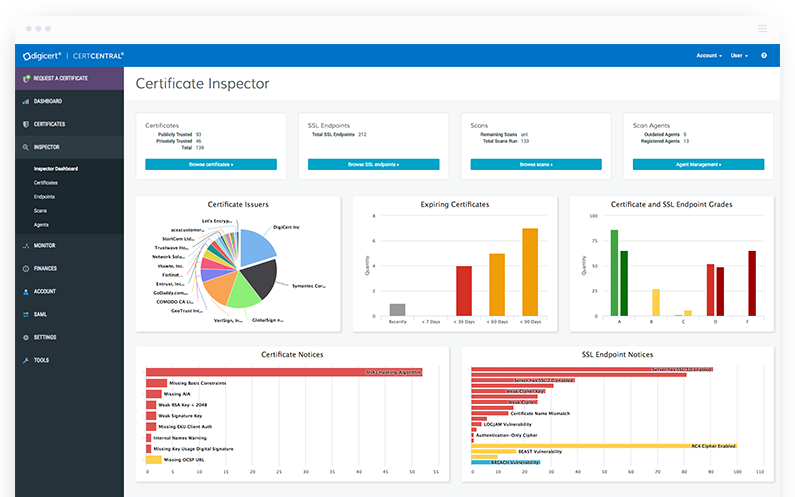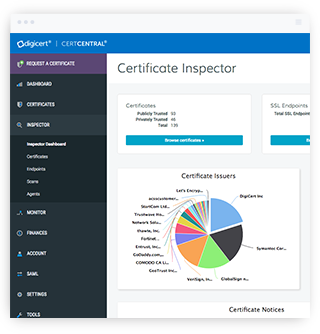 Remediation
Get immediate alerts when certificates need attention as well as remediation suggestions when weaknesses are discovered.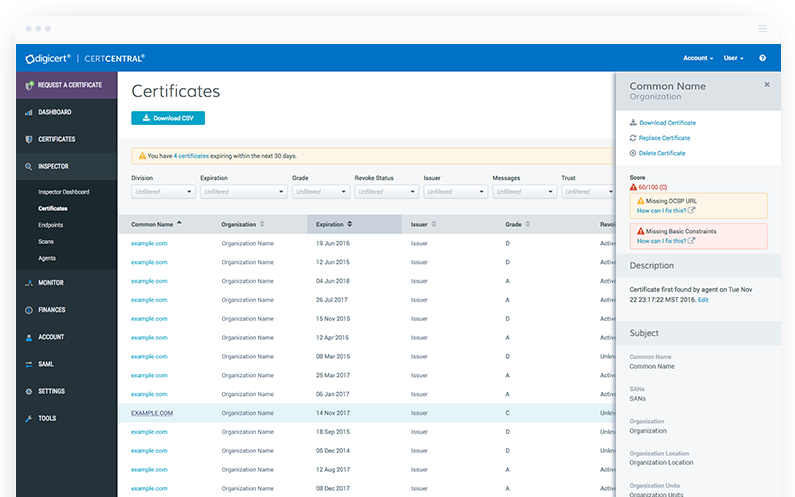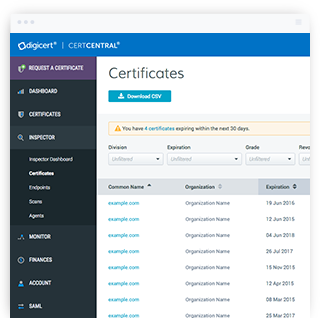 Renewal
Eliminate the headaches of keeping up on multiple certificates from multiple providers with the automated certificate renewal option.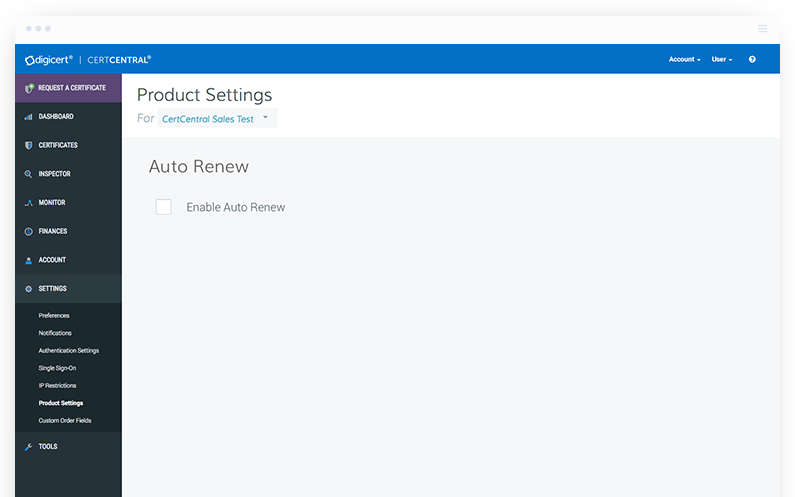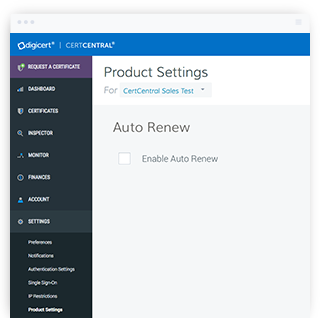 Securing the World's Best Brands
DigiCert delivers certificate management and security solutions for the majority of the Fortune 100.



Industry-Leading Support

If you have questions about any of our solutions (or need help with a certificate you purchased somewhere else) our award-winning support staff is happy to help anytime of day or night.