Work at DigiCert
Secure your future with the company that's securing the future.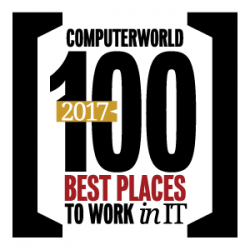 People Are Taking Notice
Computerworld ranks DigiCert as one of the 100 Best Places to Work in IT. This award is given to companies that keep their employees engaged at the highest levels of compensation, training, and access to hot technologies.

Protecting Tomorrow's Tech
Connected devices like your smartwatch, smart home, and even your car are changing the way we live, travel, and communicate. DigiCert exists so that we can all trust our interactions with these technologies.
The DigiCert Way
Customer Centric
We're obsessed with giving organizations the right experience. Our customers are changing their industries—we're securing our customers' innovations.
Innovative
We rely on our people for our most creative solutions. We need all employees to actively pursue their ideas, and we reward creative thinking.
Transparent
We encourage everyone to speak up when they have ideas. We're one team and aren't siloed in departments.
Self-Motivated
We're accountable, committed, and own our projects through completion. We reward diligence and competence.
Family Friendly
We treat our employees well and offer a family-friendly work environment. We work hard and have fun.
Skilled
We stay up-to-date on the latest trends and perform at peak levels. We pair every employee with at least one mentor, who will help them grow.
More Than Ping Pong Tables
Some companies have "perks"—we give you benefits that actually improve your life.
Fully stocked kitchen and company sponsored lunches to keep you well-fed
Generous medical, dental, life, and vision benefits to keep you healthy
401(k) plan with employer match to keep you steady
Fun, casual work environment filled with awesome people to keep you happy
Plus other extras to just keep you around
Come Help Us Secure the Connected World
All positions are based out of our Lehi location unless otherwise specified.
Accounting
Administration
Development
Information Technology
Marketing
Sales