Custom Certificate Profiles
Work with experienced PKI engineers to develop templates for every certificate type specific to your cloud-based PKI.
REQUEST PRICING
What is a Custom Certificate Profile?
Certificate profiles define every parameter associated with a specific certificate. Issuing CAs use profiles customized to each organization based on their expected use and anticipated security concerns.
A Custom PKI Built by Expert Engineers
Get personalized insights from our PKI engineers as we tailor your entire PKI to fit your needs—including intermediates, issuing CAs, and end-entity certificates. Each recommendation comes with information about the security effects and implications.
Whether your certificate is FBCA cross-certified, publicly trusted, DirectTrust-compliant, or only used for internal operations, we monitor industry developments and update customer's operations as needed.
Develop the Perfect Mix
Custom profiles give you the power to modify values within common certificate extensions. We can even incorporate your Enterprise's registered OID hierarchy as dictated by your own CP/CPS within your Private PKI.
Key Usage

Extended Key Usage

Authority Information Access

Certificate Policy

CRL Distribution Point values
Hassle-Free PKI Management
Seamlessly transition from an on-prem or self-managed implementation.
Custom profiles help accommodate for different PKI use cases within the boundaries of a specific PKI's standards and policies. Developing custom templates is one of the first steps in transitioning from a self-managed PKI solution to a cloud-based one. Your admin team can save time and manage all your certificate profiles and products in one place with our certificate management platform.
High-Volume Certificate Issuance Platform Streamline management for millions of certificates using our scalable platform.
Provision, issue, renew, and revoke certificates in one place without additional hassle or manual error.
Secure storage and management for certificate keys
Custom certificate profiles
Automated high-volume deployment
Scanning and remediation suggestions for vulnerabilities
Analytics and reports about your network
Automated certificate issuance via REST API, SCEP, EST
Updates to cryptographic curves, algorithms, and hashes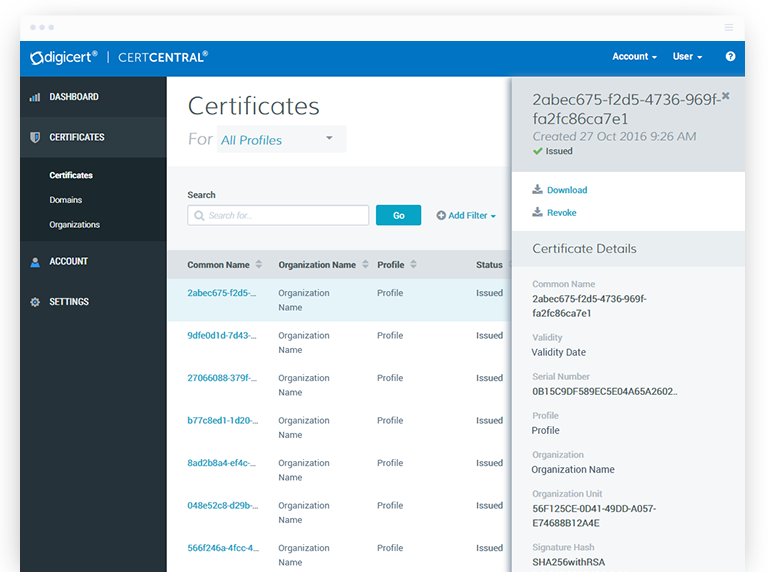 Start-to-Finish PKI Consulting
Whether you inherited an old PKI system or are continually working on your homegrown PKI, we offer professional services to address concerns and find the perfect solutions for your security needs.
Why Choose DigiCert for SSL Certificates

Award-Winning Customer Support
Our experts are available 24 hours a day, 7 days a week, so you won't wait for issuance or for help at any stage of certificate management.

Cost and Convenience

Universal Device and Browser Compatibility

Fastest Issuance and Load Times
Our validation experts issue your certificate within a few hours and DigiCert OCSP times are up to 8x faster than competitors, making for the fastest SSL in the industry.

Strongest Encryption

Access to Free Tools and Platforms

Pioneering Certificate Authority
DigiCert was a founding member of the CA/Browser Forum, and is one of the few Certificate Authorities developing new SSL technology to better protect customers.
Improved SEO and Google Ranking
HTTPS is one of the most powerful ranking factors for organic search, so our SSL certificates will help boost your rankings and overall visibility.

Increased Conversions with Site Seal
Users trust sites that have a website seal clearly on display. One study revealed that over 60% of customers said they abandoned a purchase because a trust logo was missing.
Connect with our Team of IoT Experts