What is PSD2?
Due to the sensitivity of financial services transactions, the European Banking Authority (EBA) issued revised PSD2 Regulatory Technical Standards (RTS) requiring—among other measures—the use of digital security certificates issued by a Qualified Trust Service Provider (TSP) in accordance with eIDAS standards. These certificates are known as "Qualified Certificates" and provide special status in certain legal and regulatory contexts across the EU.
DigiCert + QuoVadis is a qualified TSP and member of PRETA's Open Banking Europe directory initiative for PSD2.
Have more questions? Download our PSD2 FAQs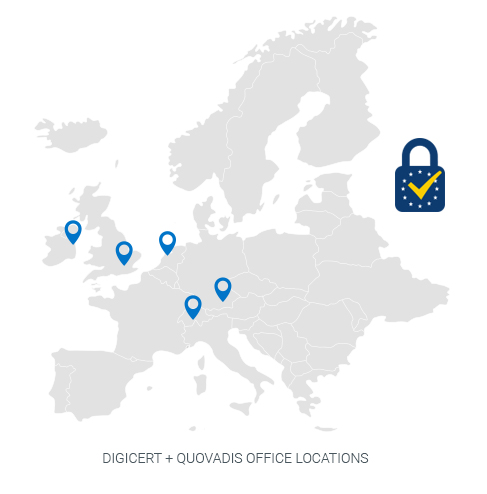 Two Options for PSD2 Qualified Digital Certificates
Qualified Web Authentication Certificate (QWAC)
QWAC certificates validate your identity and role as a Payment Service Provider to your customers and other business, while encrypting and authenticating sensitive data.
Qualified eSeal Certificate (QSealC)
QSealC certificates "seal" app data, sensitive documents and other communications to ensure
they are tamperproof and originate from a trustworthy source.
Three Steps to Get Ahead of PSD2 Compliance—and Avoid Costly Delays.
1. Avoid deadline-day disruptions with PSD2 test certificates
PSD2-compliant test certificates demonstrate that you are prepared to meet the PSD2 Regulatory Technical Standards (RTS). More practically, it ensures your infrastructure and operations are properly configured before the deadline arrives.
2. Order Qualified certificates for PSD2
DigiCert QuoVadis Trustlink B.V. is a Qualified Trust Service Provider offering QWACs and QsealC certificates that meet ETSI TS 119 495, with PSD2 roles validated with the appropriate National Competent Authority. Our European-based teams can help ensure your business meets the new standards for authentication and communication security.
3. Schedule your face-to-face validation
With offices in the Netherlands, Belgium, Switzerland, Germany and the UK—as well as local teams throughout Europe—we're positioned to make the Qualified validation process as painless as possible and help you avoid any delays.