DigiCert Dedicated Intermediate
Customizable root profiles that comply to industry standards and provide enhanced authentication security for enterprises who need
an in-house PKI infrastructure.
Request Pricing
What is a Dedicated Intermediate?
A dedicated intermediate is an issuing CA that allows enterprises to deploy digital certificates that are trusted by all major browsers and servers. DigiCert dedicated intermediates give you the power to customize the use and type of your certificates, and offer flexibility when implementing your organization's chain of trust.
Maintain the Chain of Trust
Dedicated intermediates enhance security by offering more control over the trust chain. Here's a simple example of the many possible options for issuing certificates when using a dedicated intermediate.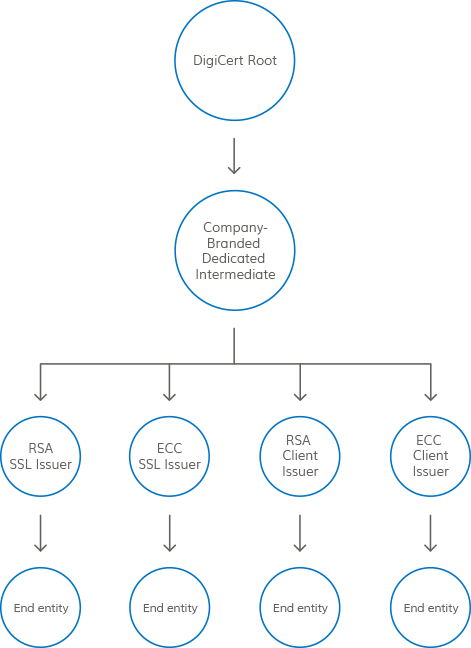 All of the Control, None of the Frustration
For dedicated intermediates housed within the DigiCert Cloud PKI service, we manage the root certificate, secure the infrastructure, and keep up with the rapidly progressing industry standards, so you don't have to worry about costly support services.
Dedicated Intermediate Features
Trust Constraint
Unlike a generic shared intermediate that has thousands of certificates chained to it, ours limits the trust to Intermediates issued for only your use, which allows for complete control over issuance and revocation of end-entity certificates. Having your own corporate Intermediate also allows for granular security policies.
Personalized Branding
You can choose to brand your intermediate, which allows your customers to see who is issuing a certificate and ensures your site and systems are secure and separate from all other sites, increasing overall trust.
Custom Profiles
Our team of experts will work with you to create customized certificate profiles, or templates, based on the expected use and anticipated security concerns of your organization. We can provide different combinations of extended key usage, key usage, authority information access, certificate policy or CRL distributionpoint value.
In-House Root Management
Enterprises can deal with millions of certificates at a time, which can make administration duties impossible. We provide a full suite of certificate management services to automate processes and save on time, effort, and cost.
Talk to One of Our PKI Experts
Want to get a quote or learn more about dedicated intermediates?
Fill out the form or call 1.801.701.9690.