Events & Webinars
Get insights about digital security from our trusted team of SSL, IoT and PKI experts.
Conferences, Tradeshows and Other Security-Focused Happenings
24-28 February 2020 – San Francisco, CA
RSA Conference
DigiCert will be at RSA Conference®2020! DigiCert will have a booth #549 in the South Hall and we will also be available to host meetings while at the event. If you have questions, please reach out to the DigiCert events team.
17-19 March 2020 – Rust, Germany
CloudFest 2020
DigiCert is a Diamond Sponsor of CloudFest 2020. We will be speaking at the conference and hosting meetings. If you would like a free standard pass, use our DigiCert code: ubqq9AHK. If you have any questions, please contact the DigiCert events team.
9-11 June 2020 – Minneapolis, MN
Americas Partner Roundtable
DigiCert will be hosting this year's Partner Event for the Americas Region in Minneapolis. This is an invite-only event where we will discuss the DigiCert partner program and host meetings with executives. If you have questions about this event, please contact Ryan White.
Upcoming DigiCert Webinars

​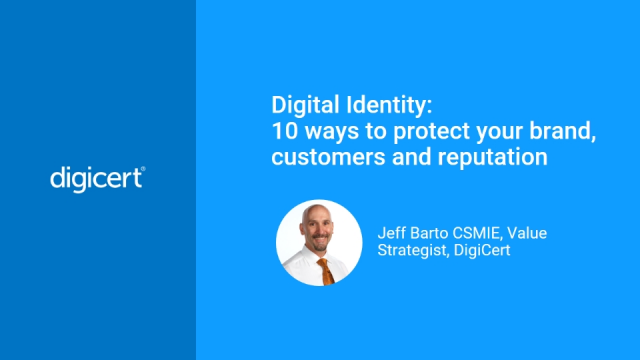 March 5, 2020 | 8 a.m. PST
Digital Identity: 10 ways to protect your brand, customers and reputation
Join DigiCert host Jeff Barto to uncover how you can validate your brand's identity to your customers, demonstrate your online legitimacy and protect your business.