Events & Webinars
Get insights about digital security from our trusted team of SSL, IoT and PKI experts.
Conferences, Tradeshows and Other Security-Focused Happenings
14-15 May 2020
Venafi Machine Identity Protection Virtual Summit
Visit https://venafisummit.com/ for more information or to register.
DigiCert is a sponsor at this event. Join the world's most influential gathering of machine identity protection experts and practitioners at this free virtual event. You can expect access to thought leaders, industry insights and actionable strategies—in a new virtual format. Learn how the world's most progressive companies are pushing the boundaries of machine identity protection. Join us for two days of high-profile keynotes, compelling content, direct access to partners and developers, CPE credits and lots of opportunities for peer-to-peer networking—all from the comfort of your home or office.
28-30 July 2020 – Minneapolis, MN
Americas Partner Roundtable
DigiCert will be hosting this year's Partner Event for the Americas Region in Minneapolis. This is an invite-only event where we will discuss the DigiCert partner program and host meetings with executives. If you have questions about this event, please contact Ryan White.
Upcoming DigiCert Webinars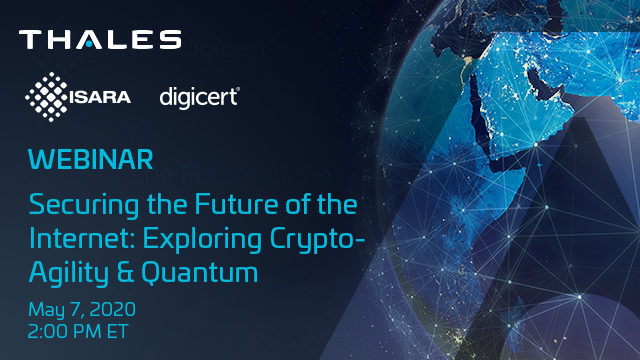 May 7, 2020 | 2 p.m. EST – 11 a.m. PST
Securing the Future of the Internet: Exploring Crypto-Agility & Quantum
Join this webinar hosted by Thales and featuring experts from ISARA and DigiCert, to uncover how the quantum threat impacts internet security and why it is important we begin preparing for it today.
May 14, 2020 | 11 a.m. EST – 8 a.m. PST
Digital Identity: 10 ways to protect your brand, customers and reputation
As well as encryption, being able to prove your digital identity has become a critical component in gaining and securing consumer trust. Join this webinar to uncover how you can validate your brand's identity to your customers, demonstrate your online legitimacy and protect your business.
May 20, 2020 | 1 p.m. EST – 10 a.m. PST
Secure your remote workforce
Join this webinar, featuring DigiCert's top 3 security experts, Jason Sabin, CTO, Wade Choules, VP of Engineering, and Brian Trzupek, SVP Emerging Markets Product Management, as they discuss the challenges and risks associated with working remotely and the PKI solutions available to enable a secure remote workforce.