Better Security for Email Users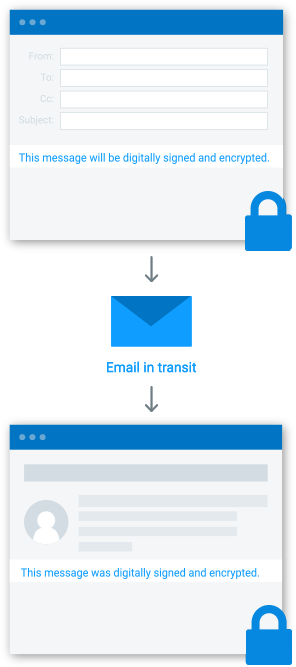 Using an email certificate for user authentication encrypts transmission and signs the message, delivering comprehensive benefits for the sender and receiver.
Prevents tampering
Content remains unaltered
Ensures message privacy
Keeps sensitive info private
Proves authorship
Shows the email came from you
Easier and Proper
Management for Admins
Don't let email be your weakest security link. The DigiCert PKI Platform gives you a central console to administer email certificates simply, so every person in your organization can send protected communications.
See How It Works
Unsecure email - Unsigned / Unencrypted email


Secure Email – Digitally signed / Encrypted email


Email Checklist for the Enterprise
The 5 tools you need to efficiently deploy and manage email certificates to users.

Centralized administration
Manage and deploy all your certificates from a single platform.

Email recovery
Choose from cloud-based, two-part recovery or on-prem key escrow.
Standard or custom certificate profiles
Save time by using pre-configured certificate profiles that our experts designed.

Flexible enrollment
Choose a method that fits your needs: PKI client, self-support portal, OS/browser enrollment or MDM web services.

Deploy pre-configured workflows
Enjoy hands-off deployment. Automated options available via PKI client with Gateway and Active Directory (AD) authentication, or via Passcode or via MDM service.
Speak to an Identity Expert about PKI Solutions