Home and Consumer IoT
Security Solutions
Protect private data and home networks while preventing unauthorized access using PKI-based security solutions for consumer IoT devices.
REQUEST A CONSULTATION
Why Consumer IoT Products Need Security
Home IoT products offer many conveniences but there are massive amounts of private consumer data being transferred to and from these services vulnerable to attack if left unsecured. Security across an entire IoT home demands proper device authentication and data encryption to ensure that all connections are trusted and communications are protected.







How to Secure Home and Consumer IoT
Properly implemented Public Key Infrastructure (PKI) creates a foundation for systems, devices, applications, and users to interact safely with consumer IoT products. A PKI IoT security solution establishes identity before secure connections are made and encrypts communications that are sent.
Authentication
Certificates for devices validate identities to make sure only authorized users, messages, or other types of servers have access to the device.
Encryption
A certificate creates an encrypted link and allows information to be transmitted privately.
Integrity
Certificates make sure that any messages or data transferred to and from "things" are not altered.
PKI Addresses Common IoT Security Challenges
Electrical engineers, software engineers, and manufacturers are just some of the roles tasked with the important job of deciding the best way to secure data in an IoT ecosystem.
Using the DigiCert Cloud PKI service and with knowledge from our PKI engineers, we can help you design a customized solution, implement it on your desired timeline, and succeed from the start.
How to securely deploy digital certificates to devices

How to implement security at various points of production

How digital certificates play a role in a larger security solution
PKI Isn't Just for Web Security
Despite common misconceptions, PKI is a perfect match for the exploding IoT sector, providing trust and control.
An ideal security solution for smart homes and appliances, PKI can be incorporated during product design, build, deployment, or ongoing maintenance.
Customizable
Digital certificates can size up or down to accommodate any type of device
Scalable
PKI easily scales so you can manage high volumes of certificates effectively
Competitive
IoT certificates are cost-effective and priced for high-volume orders
High-Volume Certificate Issuance Platform Streamline management for all your IoT certificates using our scalable platform.
Provision, issue, renew, and revoke certificates in one place without additional hassle or manual error.
Secure storage and management for certificate keys
Custom certificate profiles
Automated high-volume deployment
Scanning and remediation suggestions for vulnerabilities
Analytics and reports about your network
Automated certificate issuance via REST API, SCEP, EST
Updates to cryptographic curves, algorithms, and hashes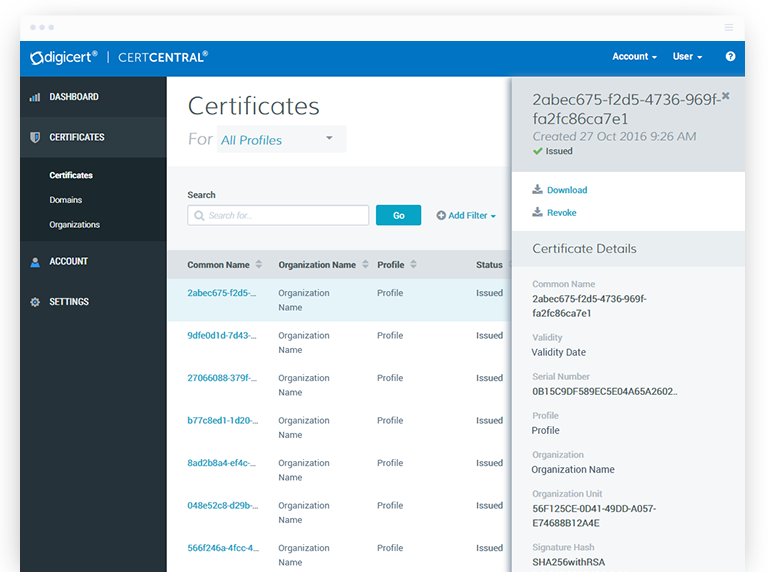 Why Choose DigiCert to Secure
Your IoT Infrastructure?
Flexible CA Infrastructure
Full Line of Digital Certificates
Certificates serve as the foundation of IoT network security by establishing trust for all interactions through authentication and encryption. DigiCert offers a full line of certificates to meet every IoT security need.
Security Design and Professional Services
We can help ensure you are security-focused from beginning to end. We offer services for design and deployment, architecture and PKI security reviews, implementation, and more.
Automated Provisioning and Deployment
Streamlined Device Identity Management
Consolidate, organize, and manage identity relationships for people, devices, and sensors using digital certificates coupled with solutions from our partners.
Data and System Integrity
Certificates can confirm original device configuration settings as well as sign messages going back and forth from devices, ensuring that messages have not been changed.
Cloud or On-Prem Options
DigiCert partners with leading HSM manufacturers to provide customers the most secure hosted HSM solution for private key management. An on-premise HSM option is also available.
PKI Expertise
From compliance reviews to on-site trainings to custom apps and scripts, our PKI experts offer services that meet the unique needs of your growing IoT landscape.
Award-Winning Customer Support
Our experts are available 24 hours a day, 7 days a week, so you won't wait for issuance or for help at any stage of certificate management lifecycle.
Have Questions about Home
and Consumer IoT Security?
Check out our support center for all things IoT. You'll find:
Or call our award-winning support team for help: 1.801.701.9600
Talk to Our PKI Experts
If you want to learn more about about home and consumer IoT or get a quote,
fill out the form or call 1.801.701.9695.