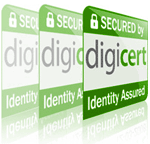 EV SSL Certificates for Multiple Domains
EV Multi-Domain SSL Certificates provide you with all the features and flexibility of Multi-Domain (SAN) Certificates together with the highest form of encryption, validation and verification available online.
Multi-Domain (SAN) with the Extended Validation Security Advantage
Multi-Domain (SAN) SSL Certificates, generally associated with Microsoft Exchange SSL installations, are actually highly versatile certificates that are compatible with all common server types, and allow server admins to secure multiple sites, subdomains, or even distinct public domains (e.g., www.domain.com, mail.domain2.com) all with one certificate.
Our EV Multi-Domain SSL certificates allow you to bring that same flexibility, cost savings, and feature set and combine them with the additional security of EV enabled Extended Validation SSL security. You can secure your entire domain, or several domains, all for one low price!
EV URL Bars in Common Browser Types
Getting Started
Learn more about the benefits of DigiCert Extended Validation Multi-Domain Certificates. Our EV Multi-Domain Certificates are the best option for users looking to secure multiple domains with Extended Validation. If you are looking to secure multiple sites on one domain, it might be best (and save you some money) to look into our standard EV SSL Certificates. Otherwise, go ahead and use the links below to get started.
EV Multi-Domain Certificate Pricing
For one certificate that can secure multiple domains owned by one company (e.g., www.domain1.com & www.domain2.com), you will need to purchase our EV Multi-Domain Certificate.
Pricing
2 Years
$779
3 names, additionals $169 each
(Save 20%)
Buy Now
1 Year
$489
3 names, additionals $99 each
Buy Now
Related:
The DigiCert Difference
SSL Certificates