At DigiCert, we pride ourselves on world-class support with a local touch. One of our core values is to take care of our customers and our people. Our customers choose to use for our expertise, innovative products and our high-quality and technical customer support. That's why with DigiCert, you get more than a certificate. You get highly trained agents to help you, global coverage with local access and award-winning support. But don't just take it from us; read what our customers are saying about our support team.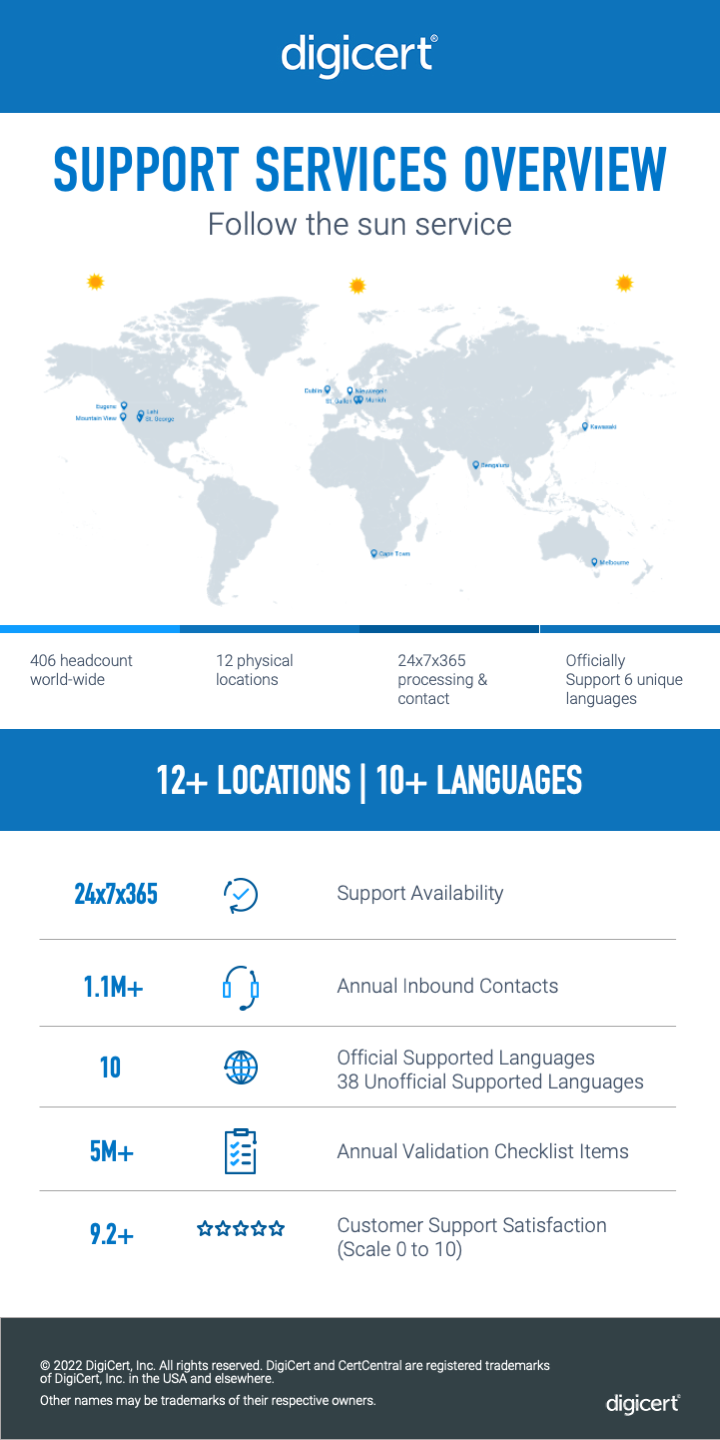 Highly trained support
Even with an average 3,000 inbound contacts a day, our support agents deliver high-quality service to every interaction. One of the main reasons people favor the DigiCert brand is our ability to offer technical support. Customers who use support not only get issues resolved, but also learn more about the industry and our products.
Here's what our customers have to say about our knowledgeable support:
"I can't thank you enough for your support and help over the last couple of months. Also, we learned so many things with respect to the DigiCert process from support."
"These guys have amazing support! I've been buying their certificates for many years now and because I don't do this often, they are always there to lend a hand. Super friendly and very helpful!"
Global coverage with local access
A global company that does business in over 180 countries, we can give customers support in every time zone. We offer support in 10 official languages as well as 38 unofficial but supported languages. Our official supported languages include:
Additionally, we have over a dozen official locations for support, including:
Lehi, Utah, USA
Mountain View, California, USA
Eugene, Oregon, USA
Dublin, Ireland
Nieuwegein, Netherlands
St. Gallen, Switzerland
München, Germany
Cape Town, South Africa
Melbourne, Australia
Kawasaki, Japan
Tokyo, Japan
Sapporo, Japan
Beijing, China
Seoul, Korea
Pune, India
Bangalore, India
Award-winning support
We're not the only ones who think, our support team is amazing. We've been recognized for awards including Best Customer Support Department in the American Business Awards.
Part of the reason we've been reconized is that our agents ensure every interaction resolves a problem. Our support agents consistently work with customers to make sure issues get resolved the first time. Whereas often in support, agents try to get off the phone quickly to help the next customer, our agents are trained to stay on as long as it takes.
According to one customer, "Your employee just got done in a very patient 90 minute chat what a competitor of yours took 10 days to complete. [They] could have dropped me off at any point when I had to fix something on my end, but they stayed with me to keep the process going. In the end, we got my company verified and all documentation in order so that I am only awaiting my verification call. This means so much to my whole team. It's a very big deal for us to get this problem resolved and your employee made it possible for that to happen. Thank you."
But we couldn't do it without the support of our fantastic customers. Our customers consistently rank us 5 stars and we received an average 9.2/10 out of 90,000 customer satisfaction surveys. Here's what some of them are saying:
"Last night I had a very positive experience with your staff to get my certificate renewed... The staff were friendly and helpful and sent me very clear emails as to what I should do to validate the company so that you could sign and issue a certificate for my domain. Please thank them for the excellent service they provided."
"I would like to thank you for the effort he had put in to go through the validation process for our organisation. In all these years that we have gone through such validations I have not seen anyone make such an immense effort in assisting us. Your employee has delivered a 7-star rating customer service and we highly appreciate it. Thank you."
Premium optional
Our award-winning support team is available to every customer, but for companies who need a priority response we also offer premium support. In fact, we offer three tiers of support so that companies can get exactly what they need.
Here's what our customers are saying about Platinum Support:
"We would like you to know how much we appreciate the work of the team and how great their support has been recently. Due to the structure of our Geocerts Team we regularly reach out to the Platinum Partner Support team from all of your offices and want you to know all the team members are doing an excellent job. Hats off to the Platinum Partner Support Team members! They represent DigiCert very professionally and their help to us makes it easier for us to give our customers excellent customer support."
Learn more about DigiCert Platinum Support and see if it's right for you.
Contact DigiCert support
Contact DigiCert support via phone (1-801-701-9600) or email. Or sign into your DigiCert login to get started. Security should be simple, and so should support. That's why our trained support staff is available to help 24/7/365.