Multi Platform SSL Certificates from DigiCert®
Not many people are experts when it comes to SSL. Luckily for them, we are. Let us help.
If you don't see your server listed below we can still help. DigiCert SSL certificates are compatible with all major server types. If you have specific questions, please ask.
Microsoft SSL Certificate Servers
Microsoft Exchange Server
We are currently one of only three Microsoft recommended Exchange SSL certificate providers, offering a wide of Exchange related tools designed to make your certificate setup as straightforward as possible.
Shop for Exchange:
Exchange Help:
Microsoft IIS Server
IIS servers are the most common server for us to work with, so count on our world-class support team to help answer any questions you might have from getting started with SSL to advanced IIS troubleshooting.
Shop for IIS SSL:
IIS Help:
Apache SSL Certificate Servers
Apache Tomcat Server
For an Apache Tomcat setup, where you are using keytool to generate certificates, we provide several tools to help you with the CSR creation/SSL installation process.
Shop for Tomcat:
Tomcat Help: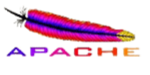 Apache HTTP Server
Especially if you are new to working with SSL certificates & OpenSSL, our step-by-step walkthroughs provide the information you need in a simple, straightforward manner that helps streamline certificate creation, installation, and troubleshooting.
Shop for Apache:
Apache Help: